SNOWMOBILING
The Eganville Snodrifters Club grooms more than 100 kilometers of trails in the area, and offers some of the most beautiful scenery in Ontario. Our trails are part of the more than 49,000 kilometers of trail networks maintained by local clubs and The Ontario Federation of Snowmobile Clubs.
Trail maps are available at The Snodrifters Club and Georges Marine & Sports in Eganville.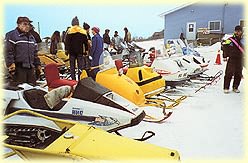 In the past, the Village of Eganville was known far and wide as Snowmobile City. We're still famous for our support and enthusiasm for All Things Snowmobile!
Snowmobile Racers and Fans come from all corners of Canada and the United States to compete in the Miwell Construction/Toromont-Cat Bonnechere Cup And Canadian Vintage Championship.
For further information, contact Merv Boldt 613-628-3633 or visit www.bonnecherecup.ca.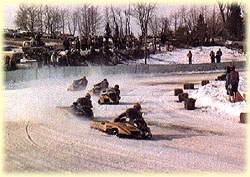 Snowmobiles have taken on many shapes and a few odd designs since they were first invented. During the 60's and 70's, more than 100 different manufacturers vied for a share of the new and exciting market! Needless to say, most of these companies did not survive.
Organized by the Ottawa Valley Old Sledheads, The Eganville Old Snowmobile Show displays these remarkable machines again.
Local merchants provide trophies and prizes to make this fun event the largest Old Snowmobile Show in Canada.
Sun
Mon
Tues
Wed
Thu
Fri
Sat
1
2
3
4
5
6
7
8
9
10
11
12
13
14
15
16
17
18
19
20
21
22
23
24
25

May 25th, 2017

Legion Dinner

Location: Eganville Legion Clubroom Join the Eganville Legion Clubroom for the their Thursday...

Legion Bingo

Location: Eganville Legion There is a Legion Bingo every Thursday at the Eganville Legion. Doors...

26

May 26th, 2017

Youth Dance

Location: Eganville Legion There will be a Youth Dance for Grades 5 to 8 at the Eganville Legion...

27

May 27th, 2017

Guy Jamieson & Friends

Location: Bonnechere Museum Join Guy Jamieson & Friends at the Bonnechere Museum on...

Eganville Mudder 2017

Location: Eganville Sno-Drifters Club (675 Sno-Drifters Road) The 5th Annual Eganville Mudder is...

Painting 101 Party

Location: Eganville Seniors Centre (30 Bell Street) Painting 101 Party on Saturday, May 27 from...

28
29
30
31

May 31st, 2017

Empowering Resilience

Location: Centennial Park, Eganville Victims and Survivors of Crime Week on Wednesday, May 31st...