SNOWMOBILING
The Eganville Snodrifters Club grooms more than 100 kilometers of trails in the area, and offers some of the most beautiful scenery in Ontario. Our trails are part of the more than 49,000 kilometers of trail networks maintained by local clubs and The Ontario Federation of Snowmobile Clubs.
Trail maps are available at The Snodrifters Club and Georges Marine & Sports in Eganville.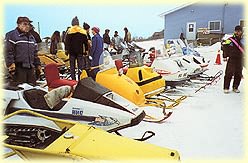 In the past, the Village of Eganville was known far and wide as Snowmobile City. We're still famous for our support and enthusiasm for All Things Snowmobile!
Snowmobile Racers and Fans come from all corners of Canada and the United States to compete in the Miwell Construction/Toromont-Cat Bonnechere Cup And Canadian Vintage Championship.
For further information, contact Merv Boldt 613-628-3633 or visit www.bonnecherecup.ca.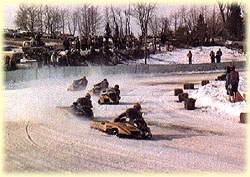 Snowmobiles have taken on many shapes and a few odd designs since they were first invented. During the 60's and 70's, more than 100 different manufacturers vied for a share of the new and exciting market! Needless to say, most of these companies did not survive.
Organized by the Ottawa Valley Old Sledheads, The Eganville Old Snowmobile Show displays these remarkable machines again.
Local merchants provide trophies and prizes to make this fun event the largest Old Snowmobile Show in Canada.
Sun
Mon
Tues
Wed
Thu
Fri
Sat
1
2
3
4
5
6
7
8
9
10
11
12
13
14
15
16
17
18
19
20
21

January 21st, 2020

Mid Mobility Exercise Classes

Location: Golden Lake Community Hall (Hwy 60) Every Tuesday & Friday (starts Sept 9) at 9:30...

6-Hand Euchre

Location: Eganville Seniors Centre There is 6-hand Euchre at the Eganville Seniors Centre every...

High Mobility Exercise Classes

Location: Eganville Seniors Centre (30 Bell Street) Join the Eganville Seniors Centre as they...

Seniors Tai Chi

Location: Eganville Seniors Centre There is Seniors Tai Chi every Tuesday at 10:15 am at the...

Scottish Country Dancing

Come and give Scottish Country dancing a try! You'll dance lively Reels, Jigs and elegant...

22

January 22nd, 2020

Zumba

Location: Eganville Seniors Centre There is Zumba at the Eganville Seniors Centre every...

23

January 23rd, 2020

High Mobility Exercise Classes

Location: Eganville Seniors Centre (30 Bell Street) Join the Eganville Seniors Centre as they...

Council Meeting

Council meets twice a month on the first and third Tuesdays. We start with a committee...

24
25
26

January 26th, 2020

FREE Public Skating

Location: Eganville Arena There is FREE Public Skating at the Eganville Arena on Sunday, January...

Dances of Universal Peace

Location: Eganville Seniors Centre The Dances of Universal Peaace will be held on January 26,...

27
28

January 28th, 2020

Mid Mobility Exercise Classes

Location: Golden Lake Community Hall (Hwy 60) Every Tuesday & Friday (starts Sept 9) at 9:30...

6-Hand Euchre

Location: Eganville Seniors Centre There is 6-hand Euchre at the Eganville Seniors Centre every...

High Mobility Exercise Classes

Location: Eganville Seniors Centre (30 Bell Street) Join the Eganville Seniors Centre as they...

Seniors Tai Chi

Location: Eganville Seniors Centre There is Seniors Tai Chi every Tuesday at 10:15 am at the...

29

January 29th, 2020

Zumba

Location: Eganville Seniors Centre There is Zumba at the Eganville Seniors Centre every...

30

January 30th, 2020

High Mobility Exercise Classes

Location: Eganville Seniors Centre (30 Bell Street) Join the Eganville Seniors Centre as they...

Fundraising Euchre

Location: Eganville Seniors Centre There is a Fundraising Euchre event on January 30th at 1:30...

Yarnia (Chronicles of)

Location: Bonnechere Union Public Library On January 30, 2020 from 6 pm to 8 pm join them for...

31