HUNTING AND FISHING HEAVEN!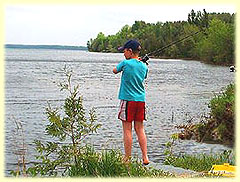 Hunters and Anglers come to Bonnechere Valley for a consistently good catch, our pristine environment and hospitality that is second to none.
Avid Anglers will love our lakes and rivers. You can expect fantastic fishing for Pike, Bass, Perch, Walleye, Lake and Brook Trout. Live bait is readily available and there is no shortage of boat rentals, campgrounds, and secret fishing spots to guarantee some of the best fishing in the Ottawa Valley.
The Eganville Tourist Information Centre, located at 38 Bonnechere Street West, can give you advice and directions to the various lakes and accomodations in Bonnechere Valley. Call us at 613-628-1594.
The area is famous during Hunting Season. There are yearly regulated harvests of White Tailed Deer, Moose and Migrating Water fowl.
Crown Land is generally open to hunting, but subject to the Ontario Game and Fish act. Hunters must obtain permission from landowners before venturing onto private land.
For regulations, please visit the Ontario MNR web site. You will need Adobe Acrobat Reader to view the regulations.
Sun
Mon
Tues
Wed
Thu
Fri
Sat
1
2
3
4
5
6
7

April 7th, 2020

CANCELLED - High Mobility Exercise Classes

Location: Eganville Seniors Centre (30 Bell Street) CANCELLED - Join the Eganville Seniors...

Council Meeting

Council meets twice a month on the first and third Tuesdays. We start with a committee...

6-Hand Euchre

Location: Eganville Seniors Centre There is 6-hand euchre every Tuesday afternoon at 1:30 pm at...

8
9
10
11
12
13
14
15
16
17

April 17th, 2020

CANCELLED - Strength & Tone Class

Location: Eganville Seniors Centre (30 Bell Street) Cancelled - Join the Eganville Seniors...

Coffee House and Poetry Night

Location: Bonnechere Union Public Library Come over to the Bonnechere Union Public Library on...

Trivia Night

Location: Eganville Sno-Drifters Club There is a Trivia Night on Friday, April 17th at the the...

18
19

April 19th, 2020

Ways and Means Dance

Location: Eganville Legion There is a Ways and Means Dance on April 19th from 2 pm to 6 pm at...

20
21

April 21st, 2020

CANCELLED - High Mobility Exercise Classes

Location: Eganville Seniors Centre (30 Bell Street) CANCELLED - Join the Eganville Seniors...

6-Hand Euchre

Location: Eganville Seniors Centre There is 6-hand euchre every Tuesday afternoon at 1:30 pm at...

Council Meeting

Council meets twice a month on the first and third Tuesdays. We start with a committee...

22

April 22nd, 2020

National Canadian Film Day

Location: Bonnechere Union Public Library Join the BIGGEST film festival in the world, right...

23
24

April 24th, 2020

CANCELLED - Strength & Tone Class

Location: Eganville Seniors Centre (30 Bell Street) Cancelled - Join the Eganville Seniors...

Maker Tech Days

Location: Bonnechere Union Public Library Sign-up for a fun morning of tech experiments at...

25
26
27
28
29

April 29th, 2020

Toy Bus

Location: Eganville Seniors Centre The Toy Bus will be at the Eganville Seniors Centre on...

30