IN OUR BACKYARD
Not only can you witness nature at its finest with abounding lakes or the beautiful Bonnechere River entwined in the woodlands of the Canadian Shield, but you can also explore the mysterious and world famous Bonnechere Caves.
You can relax and stroll along the streets of the "Jewel of the Bonnechere", better known as The Village of Eganville.
Bonnechere Authors Festival
2019 marks the Bonnechere Authors Festival (BAF) 18th season! We will be staying in our new location at the Eagle's Nest (178 Jane Street, above the Eganville Arena), which worked so well last year. Due to your postive feedback the festival will remain on Monday nights: July 8, 15, 22 and 28. We ambitiously sougth after authors and have confirmed four phenomental talents. We will tease out the release of each name on facebook in the coming weeks.
Our new Authors Circle Memberships are a great way for your to pre-plan your festival experience and help support the festival by making a donation in advance. There are a variety of membership levels to choose from, good for an individual, a couple or friends. They include seasons passes, dinners with the author, and signed books.
The BAF organizers are making some adjustments to help strengthen the Festival. For the first time, we will provide authors with honourariums to help with their travel costs. Authors in Canada make an average of $9,380 a year. To ask an Author to take time away from their family, job and to also pay their own way is more then we're willing to ask when we are raising money from their work. That means our costs are going to be a lttle higher, however, to offset this, and hopefully raise even more for the library, we are raising our prices slightly and offering new sponsorship packages for local businesses and membership packages for you, our biggest fans!
The ticket price is being increased for the first time in the 17 years this festival has take place! Single tickets will be $20, at the door. We will have a measure to help those book lovers who cannot afford the increase.
In past years BAF has been a partnership with the Training and Learning Centre. They have chosen to focus their fundraising efforts in a different direction, and we wish them the very best! This means all of the money raised will go to the Bonnechere Union Public Library. We are a small group of organizers, with a larger group of loyal volunteers and bakers. Thank you for considering supporting this Festival that has put the Eganville area on the cultural and literary map in Canada. We would not have such a successful Festival without you, our amazing audience.
...Learn more
Bonnechere Museum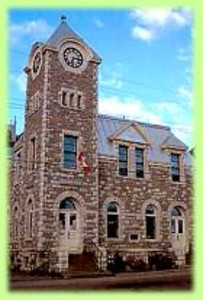 The Bonnechere Museum tells the story of settlement and development in all the townships and communities along the Bonnechere River. This new facility is in the former Eganville Village Centre.
...Learn more
Bonnechere Union Public Library
Bonnechere Union Public Library has more to offer than just books! We offer access to both print & non-print materials, a comprehensive list of services, and several programs designed to fulfill the educational, informational and recreational interests of our growing community.
...Learn more
Churches
Every denomination is recognized with many churches in Eganville, Augsburg, Cormac and along the Opeongo Line.
...Learn more
Fishing & Hunting
Hunters and Anglers come to Bonnechere Valley for a consistently good catch, our pristine environment and hospitality that is second to none.
Avid Anglers will love our lakes and rivers. You can expect fantastic fishing for Pike, Bass, Perch, Walleye, Lake and Brook Trout. Live bait is readily available and there is no shortage of boat rentals, campgrounds, and secret fishing spots to guarantee some of the best fishing in the Ottawa Valley.
...Learn more
Lakes & Rivers
Bonnechere Valley Township has Everything for Your Vacation on Our Lakes and Rivers!
Our area is like a brilliant picture postcard and there's no shortage of things to do and places to stay along the way. We have camping, hiking, canoeing, boating, cottages, beaches, and resorts galore!
...Learn more
Music in the Park
Date:
Every: Wednesday, Friday

Music in the Park takes place every Wednesday and Friday evenings from 7 pm to 9 pm in Eganville's Centennial Park beginning mid-June and runs until the end of August. In case of bad weather Music in the Park is moved to the Eganville Legion in the Clubroom.
...Learn more
Recreational Geology
In October 2012 the 1st ever municipally owned Recreational Geology Trail opened. It is a Geologically rich trail in the heart of the Bonnechere Valley, leading to a limestone quarry and a hand-dug trench!
The Township of Bonnechere Valley in partnership with the Bonnechere Museum are happy to offer this local trail for recreational and educational use. Admire Eganville's unique natural beauty as you walk through a hillside forest and past rock walls where geological treasures are abundant.
...Learn more
Schools
Our Township believes in the future! Quality education is a big part of that future! Take a look at our facilities: Eganville & District Public School Contact: Box 787 Eganville, Ontario K0J 1T0 Phone: 613-628-2606 Fax:...
...Learn more
Sun
Mon
Tues
Wed
Thu
Fri
Sat
1
2
3
4
5

April 5th, 2020

CANCELLED - Bid Euchre

Location: Eganville Seniors Centre CANCELLED - There is Bid Euchre at the Eganville Seniors...

6
7

April 7th, 2020

CANCELLED - High Mobility Exercise Classes

Location: Eganville Seniors Centre (30 Bell Street) CANCELLED - Join the Eganville Seniors...

Council Meeting

Council meets twice a month on the first and third Tuesdays. We start with a committee...

6-Hand Euchre

Location: Eganville Seniors Centre There is 6-hand euchre every Tuesday afternoon at 1:30 pm at...

8
9
10
11
12
13
14
15
16
17

April 17th, 2020

CANCELLED - Strength & Tone Class

Location: Eganville Seniors Centre (30 Bell Street) Cancelled - Join the Eganville Seniors...

Coffee House and Poetry Night

Location: Bonnechere Union Public Library Come over to the Bonnechere Union Public Library on...

Trivia Night

Location: Eganville Sno-Drifters Club There is a Trivia Night on Friday, April 17th at the the...

18
19

April 19th, 2020

Ways and Means Dance

Location: Eganville Legion There is a Ways and Means Dance on April 19th from 2 pm to 6 pm at...

20
21

April 21st, 2020

CANCELLED - High Mobility Exercise Classes

Location: Eganville Seniors Centre (30 Bell Street) CANCELLED - Join the Eganville Seniors...

6-Hand Euchre

Location: Eganville Seniors Centre There is 6-hand euchre every Tuesday afternoon at 1:30 pm at...

Council Meeting

Council meets twice a month on the first and third Tuesdays. We start with a committee...

22

April 22nd, 2020

National Canadian Film Day

Location: Bonnechere Union Public Library Join the BIGGEST film festival in the world, right...

23
24

April 24th, 2020

CANCELLED - Strength & Tone Class

Location: Eganville Seniors Centre (30 Bell Street) Cancelled - Join the Eganville Seniors...

Maker Tech Days

Location: Bonnechere Union Public Library Sign-up for a fun morning of tech experiments at...

25
26
27
28
29

April 29th, 2020

Toy Bus

Location: Eganville Seniors Centre The Toy Bus will be at the Eganville Seniors Centre on...

30