RECREATION
Recreation
The Township of Bonnechere Valley boasts some of the best recreational facilities in Renfrew County!
We Offer:
A modern Indoor Community Centre and Arena
A Township Maintained Public Beach on the river behind the arena
Baseball and Soccer facilities
An outdoor rink at Legion Field Memorial Park
A Curling Rink and Tennis courts
More than 100 kilometers of Snowmobile Trails
Eganville's Centennial Park which includes:
a natural amphitheatre and band shell
a children's playground
a beautiful walking bridge and scenic park land
Legion Memorial Field:
Softball Diamonds
Soccer Fields
Outdoor Rink
Curling Club
Tennis court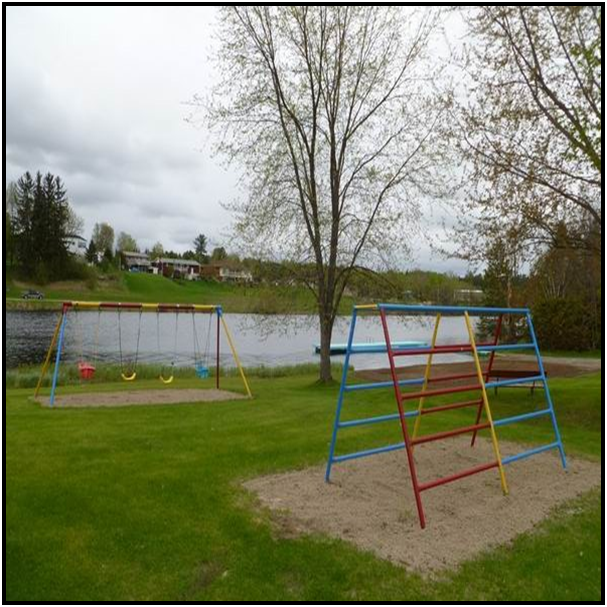 Public Beaches:
Rotary Beach & Park - 178B Jane Street, Eganville

Located along the Bonnechere River, enjoy sitting and watching the river flow by.
The park includes swings and a play structure.
Public Boat Launches:
The Township of Bonnechere Valley maintains public beaches on Lake Clear and at Rotary Beach in Eganville on the Bonnechere River.
We also own and maintain a free public boat launch at Bonnechere Lodge on Golden Lake.
Sun
Mon
Tues
Wed
Thu
Fri
Sat
1
2
3
4
5
6
7
8

December 8th, 2019

Angel Tree Deadline

Location: Bonnechere Union Public Library Grab a star from our Angel Tree and help a local...

Recycling "Paper" Pick-up for Tuesday, December 31st changed to Monday, December 30th

The "Paper" Recycling Pick-up for Tuesday, December 31st has been changed to Monday,...

Garbage Pick-up scheduled for Thursday, December 26th changed to Friday, December 27th

NOTICE: Garbage pick-up scheduled for Thursday, December 26th (Boxing Day) has been changed to...

Bid Euchre

Location: Eganville Seniors Centre There is Bid Euchre on December 8th, 1:30 pm at the Eganville...

Santa Claus Parade

Location: Eganville District Public School The Eganville Santa Claus Parade is scheduled for...

FREE Public Skating

Location: Eganville Arena There is FREE Public Skating at the Eganville Arena on Sunday,...

9
10

December 10th, 2019

High Mobility Exercise Classes

Location: Eganville Seniors Centre (30 Bell Street) Join the Eganville Seniors Centre as they...

Angel Tree Deadline

Location: Bonnechere Union Public Library Grab a star from our Angel Tree and help a local...

Recycling "Paper" Pick-up for Tuesday, December 31st changed to Monday, December 30th

The "Paper" Recycling Pick-up for Tuesday, December 31st has been changed to Monday,...

Garbage Pick-up scheduled for Thursday, December 26th changed to Friday, December 27th

NOTICE: Garbage pick-up scheduled for Thursday, December 26th (Boxing Day) has been changed to...

Mid Mobility Exercise Classes

Location: Golden Lake Community Hall (Hwy 60) Every Tuesday & Friday (starts Sept 9) at 9:30...

6-Hand Euchre

Location: Eganville Seniors Centre There is 6-hand Euchre every Tuesday at 1:30 pm at the...

Recycling "Plastics" Pick-up - Tuesday, December 24th changed to Monday, December 23rd

NOTICE: The Regular scheduled "plastics" recycling pick-up for Tuesday, December 24th has...

11

December 11th, 2019

Angel Tree Deadline

Location: Bonnechere Union Public Library Grab a star from our Angel Tree and help a local...

Recycling "Paper" Pick-up for Tuesday, December 31st changed to Monday, December 30th

The "Paper" Recycling Pick-up for Tuesday, December 31st has been changed to Monday,...

Garbage Pick-up scheduled for Thursday, December 26th changed to Friday, December 27th

NOTICE: Garbage pick-up scheduled for Thursday, December 26th (Boxing Day) has been changed to...

Recycling "Plastics" Pick-up - Tuesday, December 24th changed to Monday, December 23rd

NOTICE: The Regular scheduled "plastics" recycling pick-up for Tuesday, December 24th has...

BUPL Choir

Location: Bonnechere Union Public Library Come to the Bonnechere Union Public Library on...

Memory Cafe

Location: Eganville Seniors Centre There is a Memory Cafe on December 11th, 10:30 am at the...

12

December 12th, 2019

High Mobility Exercise Classes

Location: Eganville Seniors Centre (30 Bell Street) Join the Eganville Seniors Centre as they...

Angel Tree Deadline

Location: Bonnechere Union Public Library Grab a star from our Angel Tree and help a local...

Recycling "Paper" Pick-up for Tuesday, December 31st changed to Monday, December 30th

The "Paper" Recycling Pick-up for Tuesday, December 31st has been changed to Monday,...

Garbage Pick-up scheduled for Thursday, December 26th changed to Friday, December 27th

NOTICE: Garbage pick-up scheduled for Thursday, December 26th (Boxing Day) has been changed to...

Eganville Legion - Thursday Night Suppers

Location: Eganville Legion Join the Eganville Legion as they host their Thursday Night Suppers...

Recycling "Plastics" Pick-up - Tuesday, December 24th changed to Monday, December 23rd

NOTICE: The Regular scheduled "plastics" recycling pick-up for Tuesday, December 24th has...

13

December 13th, 2019

Recycling "Paper" Pick-up for Tuesday, December 31st changed to Monday, December 30th

The "Paper" Recycling Pick-up for Tuesday, December 31st has been changed to Monday,...

Garbage Pick-up scheduled for Thursday, December 26th changed to Friday, December 27th

NOTICE: Garbage pick-up scheduled for Thursday, December 26th (Boxing Day) has been changed to...

Mid Mobility Exercise Classes

Location: Golden Lake Community Hall (Hwy 60) Every Tuesday & Friday (starts Sept 9) at 9:30...

Footcare Clinic

Location: Eganville Seniors Centre The Eganville Seniors Centre hosts a Footcare Clinic the 1st...

Strength & Tone Class

Location: Eganville Seniors Centre (30 Bell Street) Join the Eganville Seniors Centre as they...

Recycling "Plastics" Pick-up - Tuesday, December 24th changed to Monday, December 23rd

NOTICE: The Regular scheduled "plastics" recycling pick-up for Tuesday, December 24th has...

Youth Dance - Grades 5 to 8

Location: Eganville Legion There is a Youth Dance for Grades 5 to 8 on Friday, December 13th...

14

December 14th, 2019

Recycling "Paper" Pick-up for Tuesday, December 31st changed to Monday, December 30th

The "Paper" Recycling Pick-up for Tuesday, December 31st has been changed to Monday,...

Garbage Pick-up scheduled for Thursday, December 26th changed to Friday, December 27th

NOTICE: Garbage pick-up scheduled for Thursday, December 26th (Boxing Day) has been changed to...

Recycling "Plastics" Pick-up - Tuesday, December 24th changed to Monday, December 23rd

NOTICE: The Regular scheduled "plastics" recycling pick-up for Tuesday, December 24th has...

15

December 15th, 2019

Recycling "Paper" Pick-up for Tuesday, December 31st changed to Monday, December 30th

The "Paper" Recycling Pick-up for Tuesday, December 31st has been changed to Monday,...

Garbage Pick-up scheduled for Thursday, December 26th changed to Friday, December 27th

NOTICE: Garbage pick-up scheduled for Thursday, December 26th (Boxing Day) has been changed to...

Recycling "Plastics" Pick-up - Tuesday, December 24th changed to Monday, December 23rd

NOTICE: The Regular scheduled "plastics" recycling pick-up for Tuesday, December 24th has...

Eganville Community Choir presents a "Christmas is a comin'!"

The Eganville Community Choir presents "Chrismas is comin'!" concert with special...

FREE Public Skating

Location: Eganville Arena There is FREE Public Skating at the Eganville Arena on Sunday,...

16

December 16th, 2019

Recycling "Paper" Pick-up for Tuesday, December 31st changed to Monday, December 30th

The "Paper" Recycling Pick-up for Tuesday, December 31st has been changed to Monday,...

Garbage Pick-up scheduled for Thursday, December 26th changed to Friday, December 27th

NOTICE: Garbage pick-up scheduled for Thursday, December 26th (Boxing Day) has been changed to...

Strength & Tone Class

Location: Eganville Seniors Centre (30 Bell Street) Join the Eganville Seniors Centre as they...

Recycling "Plastics" Pick-up - Tuesday, December 24th changed to Monday, December 23rd

NOTICE: The Regular scheduled "plastics" recycling pick-up for Tuesday, December 24th has...

17

December 17th, 2019

High Mobility Exercise Classes

Location: Eganville Seniors Centre (30 Bell Street) Join the Eganville Seniors Centre as they...

Recycling "Paper" Pick-up for Tuesday, December 31st changed to Monday, December 30th

The "Paper" Recycling Pick-up for Tuesday, December 31st has been changed to Monday,...

Garbage Pick-up scheduled for Thursday, December 26th changed to Friday, December 27th

NOTICE: Garbage pick-up scheduled for Thursday, December 26th (Boxing Day) has been changed to...

Mid Mobility Exercise Classes

Location: Golden Lake Community Hall (Hwy 60) Every Tuesday & Friday (starts Sept 9) at 9:30...

6-Hand Euchre

Location: Eganville Seniors Centre There is 6-hand Euchre every Tuesday at 1:30 pm at the...

Recycling "Plastics" Pick-up - Tuesday, December 24th changed to Monday, December 23rd

NOTICE: The Regular scheduled "plastics" recycling pick-up for Tuesday, December 24th has...

Council Meeting

Council meets twice a month on the first and third Tuesdays. We start with a committee...

18

December 18th, 2019

Recycling "Paper" Pick-up for Tuesday, December 31st changed to Monday, December 30th

The "Paper" Recycling Pick-up for Tuesday, December 31st has been changed to Monday,...

Garbage Pick-up scheduled for Thursday, December 26th changed to Friday, December 27th

NOTICE: Garbage pick-up scheduled for Thursday, December 26th (Boxing Day) has been changed to...

Recycling "Plastics" Pick-up - Tuesday, December 24th changed to Monday, December 23rd

NOTICE: The Regular scheduled "plastics" recycling pick-up for Tuesday, December 24th has...

19

December 19th, 2019

High Mobility Exercise Classes

Location: Eganville Seniors Centre (30 Bell Street) Join the Eganville Seniors Centre as they...

Recycling "Paper" Pick-up for Tuesday, December 31st changed to Monday, December 30th

The "Paper" Recycling Pick-up for Tuesday, December 31st has been changed to Monday,...

Garbage Pick-up scheduled for Thursday, December 26th changed to Friday, December 27th

NOTICE: Garbage pick-up scheduled for Thursday, December 26th (Boxing Day) has been changed to...

Eganville Legion - Thursday Night Suppers

Location: Eganville Legion Join the Eganville Legion as they host their Thursday Night Suppers...

Recycling "Plastics" Pick-up - Tuesday, December 24th changed to Monday, December 23rd

NOTICE: The Regular scheduled "plastics" recycling pick-up for Tuesday, December 24th has...

20

December 20th, 2019

Recycling "Paper" Pick-up for Tuesday, December 31st changed to Monday, December 30th

The "Paper" Recycling Pick-up for Tuesday, December 31st has been changed to Monday,...

Garbage Pick-up scheduled for Thursday, December 26th changed to Friday, December 27th

NOTICE: Garbage pick-up scheduled for Thursday, December 26th (Boxing Day) has been changed to...

Mid Mobility Exercise Classes

Location: Golden Lake Community Hall (Hwy 60) Every Tuesday & Friday (starts Sept 9) at 9:30...

Strength & Tone Class

Location: Eganville Seniors Centre (30 Bell Street) Join the Eganville Seniors Centre as they...

Recycling "Plastics" Pick-up - Tuesday, December 24th changed to Monday, December 23rd

NOTICE: The Regular scheduled "plastics" recycling pick-up for Tuesday, December 24th has...

Blood Donor Clinic

Location: Eganville Legion There is a Blood Donor Clinic at the Eganville Legion on December...

21

December 21st, 2019

Recycling "Paper" Pick-up for Tuesday, December 31st changed to Monday, December 30th

The "Paper" Recycling Pick-up for Tuesday, December 31st has been changed to Monday,...

Garbage Pick-up scheduled for Thursday, December 26th changed to Friday, December 27th

NOTICE: Garbage pick-up scheduled for Thursday, December 26th (Boxing Day) has been changed to...

Recycling "Plastics" Pick-up - Tuesday, December 24th changed to Monday, December 23rd

NOTICE: The Regular scheduled "plastics" recycling pick-up for Tuesday, December 24th has...

22

December 22nd, 2019

Recycling "Paper" Pick-up for Tuesday, December 31st changed to Monday, December 30th

The "Paper" Recycling Pick-up for Tuesday, December 31st has been changed to Monday,...

Garbage Pick-up scheduled for Thursday, December 26th changed to Friday, December 27th

NOTICE: Garbage pick-up scheduled for Thursday, December 26th (Boxing Day) has been changed to...

Recycling "Plastics" Pick-up - Tuesday, December 24th changed to Monday, December 23rd

NOTICE: The Regular scheduled "plastics" recycling pick-up for Tuesday, December 24th has...

From Our House To Yours

Location: Grace Lutheran Church From Our House To Yours is a country Christmas musical event on...

FREE Public Skating

Location: Eganville Arena There is FREE Public Skating at the Eganville Arena on Sunday,...

23

December 23rd, 2019

Recycling "Paper" Pick-up for Tuesday, December 31st changed to Monday, December 30th

The "Paper" Recycling Pick-up for Tuesday, December 31st has been changed to Monday,...

Garbage Pick-up scheduled for Thursday, December 26th changed to Friday, December 27th

NOTICE: Garbage pick-up scheduled for Thursday, December 26th (Boxing Day) has been changed to...

Recycling "Plastics" Pick-up - Tuesday, December 24th changed to Monday, December 23rd

NOTICE: The Regular scheduled "plastics" recycling pick-up for Tuesday, December 24th has...

FREE Public Skating

Location: Eganville Arena There is FREE Public Skating at the Eganville Arena on Monday,...

24

December 24th, 2019

Recycling "Paper" Pick-up for Tuesday, December 31st changed to Monday, December 30th

The "Paper" Recycling Pick-up for Tuesday, December 31st has been changed to Monday,...

Garbage Pick-up scheduled for Thursday, December 26th changed to Friday, December 27th

NOTICE: Garbage pick-up scheduled for Thursday, December 26th (Boxing Day) has been changed to...

Recycling "Plastics" Pick-up - Tuesday, December 24th changed to Monday, December 23rd

NOTICE: The Regular scheduled "plastics" recycling pick-up for Tuesday, December 24th has...

25
26
27
28
29
30
31