IN OUR BACKYARD
Not only can you witness nature at its finest with abounding lakes or the beautiful Bonnechere River entwined in the woodlands of the Canadian Shield, but you can also explore the mysterious and world famous Bonnechere Caves.
You can relax and stroll along the streets of the "Jewel of the Bonnechere", better known as The Village of Eganville.
Bonnechere Museum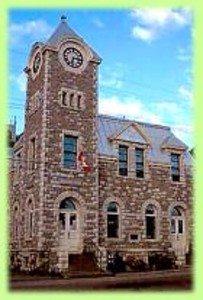 The Bonnechere Museum tells the story of settlement and development in all the townships and communities along the Bonnechere River. This new facility is in the former Eganville Village Centre.
...Learn more
Bonnechere Union Public Library
Bonnechere Union Public Library has more to offer than just books! We offer access to both print & non-print materials, a comprehensive list of services, and several programs designed to fulfill the educational, informational and recreational interests of our growing community.
...Learn more
Churches
Every denomination is recognized with many churches in Eganville, Augsburg, Cormac and along the Opeongo Line.
...Learn more
Fishing & Hunting
Hunters and Anglers come to Bonnechere Valley for a consistently good catch, our pristine environment and hospitality that is second to none.
Avid Anglers will love our lakes and rivers. You can expect fantastic fishing for Pike, Bass, Perch, Walleye, Lake and Brook Trout. Live bait is readily available and there is no shortage of boat rentals, campgrounds, and secret fishing spots to guarantee some of the best fishing in the Ottawa Valley.
...Learn more
Lakes & Rivers
Bonnechere Valley Township has Everything for Your Vacation on Our Lakes and Rivers!
Our area is like a brilliant picture postcard and there's no shortage of things to do and places to stay along the way. We have camping, hiking, canoeing, boating, cottages, beaches, and resorts galore!
...Learn more
Recreational Geology
In October 2012 the 1st ever municipally owned Recreational Geology Trail opened. It is a Geologically rich trail in the heart of the Bonnechere Valley, leading to a limestone quarry and a hand-dug trench!
The Township of Bonnechere Valley in partnership with the Bonnechere Museum are happy to offer this local trail for recreational and educational use. Admire Eganville's unique natural beauty as you walk through a hillside forest and past rock walls where geological treasures are abundant.
...Learn more
Senior Needs Association
The Eganville and District Seniors Needs Association provides assistance and social activities for senior citizens of the area.
You can volunteer to help:
Opportunities to touch a life are not always easy to find. Volunteering provides a way to help improve the life of another person. Now is your opportunity to give back to your community.
Get involved. Bring us your energy, your ideas, your pledge to help others, and we will find a way to start you volunteering.
Please call 628-2354 to discuss your options.
...Learn more
Schools
Our Township believes in the future! Quality education is a big part of that future! Take a look at our facilities: Eganville & District Public School Contact: Box 787 Eganville, Ontario K0J 1T0 Phone: 613-628-2606 Fax:...
...Learn more
Snowmobiling
The Eganville Snodrifters Club grooms more than 100 kilometers of trails in the area, and offers some of the most beautiful scenery in Ontario. Our trails are part of the more than 49,000 kilometers of trail networks maintained by local clubs and The Ontario Federation of Snowmobile Clubs.
...Learn more
Sun
Mon
Tues
Wed
Thu
Fri
Sat
1
2
3
4
5
6

February 6th, 2019

Recreational Pickleball

Location: Eganville District Public School Every Wednesday beginning Wednesday September 12th...

7
8
9
10

February 10th, 2019

Ottawa Heart Fundraiser Dance

Location: Eganville Legion Join the Eganville Legion on February 10th for the Ottawa Heart...

FREE Public Skating

Location: Eganville Arena There is FREE Public Skating at the Eganville Arena on Sunday,...

11
12
13

February 13th, 2019

Recreational Pickleball

Location: Eganville District Public School Every Wednesday beginning Wednesday September 12th...

Eganville Community Choir

The Eganville Community Choir invites everyone who likes to sing. We will be holding...

Memory Cafe

Location: Seniors Centre The Memory Cafe will be at the Seniors Centre on February 13th at 10:30...

14
15
16
17

February 17th, 2019

Bid Euchre

Location: Seniors Centre There is Bid Euchre on February 17th at the Seniors Centre. It...

FREE Public Skating

Location: Eganville Arena (178 Jane Street) There is FREE Public Skating at the Eganville Arena...

18
19

February 19th, 2019

Council Meeting

Council meets twice a month on the first and third Tuesdays. We start with a committee...

20

February 20th, 2019

Recreational Pickleball

Location: Eganville District Public School Every Wednesday beginning Wednesday September 12th...

21
22

February 22nd, 2019

Fundraising 6-Hand Euchre

Location: Seniors Centre On February 22nd there is 6-Hand Euchre taking place at the Seniors...

23
24

February 24th, 2019

FREE Public Skating

Location: Eganville Arena (178 Jane Street) There is FREE Public Skating at the Eganville Arena...

25
26
27

February 27th, 2019

Recreational Pickleball

Location: Eganville District Public School Every Wednesday beginning Wednesday September 12th...

28